This is the thirty-sixth in a series of posts by Dr Robert Ford, Dr Will Jennings and Dr Mark Pickup  that report on the state of the parties in the UK as measured by opinion polls. By pooling together all the available polling evidence, the impact of the random variation that each individual survey inevitably produces can be reduced.
Most of the short term advances and setbacks in party polling fortunes are nothing more than random noise; the underlying trends – in which the authors are interested and which best assess the parties' standings – are relatively stable and little influenced by day-to-day events. If there can ever be a definitive assessment of the parties' standings, this is it. Further details of the method used to build these estimates of public opinion can be found here.
This month's Polling Observatory suggests that, not for the first time, Nigel Farage's UKIP uprising has thrown a spanner into the Westminster political machine.
The slow but steady tightening in the gap between the big two parties comes to a halt this month, as both lose ground while UKIP surges. Our estimate for Labour this month is 35.3%, down 0.9% on last month, and continuing the past year's pattern of slow but steady decline. Labour have now hit their lowest point in the polls since Ed Miliband was elected leader of the party in the autumn of 2010.
However, the Conservatives have not been able to capitalise on Labour's continued decline as their support has fallen even more sharply this month, down 1.4 points at 31.6%. The Liberal Democrats have also seen no electoral benefit from their leader's high profile combat with Nigel Farage over the EU – we have them down 0.2% this month at 7.4%.
All the momentum, and the media focus, lies instead with Nigel Farage and UKIP, whose surge in European Parliament polling is, as we predicted in earlierposts, being echoed in Westminster polling: UKIP stand at 14.1% this month, close to their highest ever share of 14.4% achieved in the aftermath of their local election success last summer.
With UKIP currently favourites to win the European Parliament election, and become the first new party in nearly a century to top the poll in a nationwide election, further advances in the next few months look likely. It is likely that the upcoming Newark by-election will take place with UKIP support in domestic polling at record levels.
The current UKIP surge, however, does owe something to the unusual political context with a European Parliament election looming.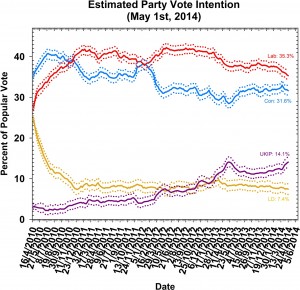 In each of the past two European elections, UKIP has advanced in the polls, as their defining issue dominates the political agenda, and they expand beyond their traditional base of disaffected, struggling working class voters angry about immigration by winning over better off, often Conservative-leaning Eurosceptic voters who find UKIP attractive in European elections but less so in Westminster ones. In past election cycles, UKIP has struggled to hold on to these "strategic defectors" – voters who view UKIP as a vehicle for sending a message about the EU, but not a natural political home.
It remains to be seen whether the same dynamic will assert itself in the rather different political climate of 2014 – UKIP's much stronger poll standing, greater media coverage, and improved financial and organisational resources may make it easier for them to retain new recruits.
However, the Conservatives will certainly be hoping that the pattern of 2009, and (to a lesser extent) 2013 repeats itself – with UKIP's spring surge fading away as voters return to the domestic political agenda and start to drift back to the mainstream parties, boosting Tory vote shares in particular.
Labour will hope that, with UKIP now targeting both main parties for votes, the decline in their support this month also reflects the temporary inflation in UKIP support, and that they too will recover more ground if and when UKIP decline than was true before. This is certainly possible, but it might be unwise to pin their hopes on a Farage fallback. The fall in Labour share this month was the continuation of a now well established trend that has seen the party shed 7 percentage points of support since their peak in the summer of 2012.
Those within the party pushing for a "35% strategy" might be a little concerned that Labour support has already fallen back to this level, with over a year to go, and clear evidence of a downward trend in support. It is quite plausible that the remaining Labour backers are more firmly behind the party than those who have leaked away over the past 18 months, but the continued loss of support, and the precarious lead remaining, must give Labour plenty to worry about.
Those within all the parties wondering what today's polling means for next year's election will have some additional information to chew on next week when, exactly one year ahead of the general election, we launch the Polling Observatory forecast model, which utilises historical polling trends to estimate the likeliest pattern of results next May based on where things stand today.
Tune in on 7 May to find out our current estimate of where support for the parties will be come election day.