The Conservative Government's 2019 general election manifesto included a promise to 'listen to the people who have felt left behind'. There was also a commitment in the Budget 2020 to drive economic growth sustainably and improve living standards by boosting productivity and levelling up skills across the UK, along with future commitments to increase investment in infrastructure. The coronavirus pandemic has delayed the Government's plans somewhat but this Budget has returned to their 'levelling-up' priorities. In this blog, Dr Marianne Sensier, from the Alliance Manchester Business School, responds to the Budget.
Levelling up regions in the UK will take time but this should start now with greater investment needed in jobs, infrastructure and communities.
The plans to relocate civil servants out of London are welcome but greater human resource capacity is needed across regions to deal with the challenges facing the UK economy during its recovery from the pandemic and Brexit.
Now is the right time to invest, with fiscal stimuli during recessions being shown to have the greatest effect on the economy, increasing output and reducing the debt/GDP ratio over time.
To be truly transformative, 'levelling-up' requires more targeted investment in well-paid jobs across the UK in science, technology and the green economy.
Levelling up places
Spatial disparities within the UK are wide when compared to other OECD countries. Closing these gaps will take significant investment over time to make a material difference to people's lives and even longer to show up in the data, particularly with infrastructure spending.
The austerity drive that started under the Coalition Government saw a reduction in civil service jobs across English regions (see IFS chart below). Following the 2016 EU Referendum, this trend reversed in London with a net gain of 6% of jobs between 2010 and 2020. Other English regions have seen net losses, with the North West experiencing a 15% loss and the East of England losing the greatest share (32%) of the well-paying jobs that add great value to their local communities. The loss of these civil service jobs may have helped to widen spatial disparities in productivity between regions with the hollowing out of middle-income jobs replaced by lower-paid roles.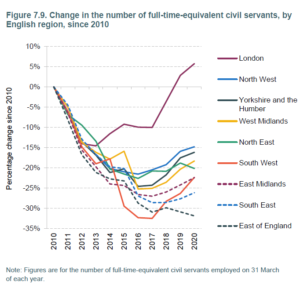 Source: IFS Green Budget 2020, Chapter 7. Levelling up: where and how?
A faster change to levelling-up will follow from moving civil servant jobs out of London. Over a week ago, the Government announced a second HQ for the Ministry of Housing, Communities and Local Government (MHCLG) in Wolverhampton. The move of civil servants to the new HM Treasury North campus in Darlington will help officials understand more about the places they are trying to help as well as directly increasing jobs in that location. This, in turn, will have a multiplier effect on the local area, creating more jobs to serve workers and more business opportunities with a chance to procure goods and services locally. The jobs will also provide better opportunities for the resident population and future generations. The announced plans to relocate civil servants out of London are welcome but greater capacity is needed across regions to deal with the challenges facing the UK economy during its recovery from the pandemic and Brexit.
Along with the effect of local multipliers boosting growth in the wider region, the stage of the business cycle also needs to be taken into account. In the US, it has been shown that  fiscal stimuli during recessions are more effective than during expansions, so investment now should increase output and reduce the debt/GDP ratio over time.
Tax breaks to level up
The Chancellor has announced the location of the eight Freeports in England, including Teesside, Felixstowe & Harwich, Plymouth & South Devon, Liverpool City Region, Solent, Humber, East Midlands Airport and Thames. The Freeports will contain areas where businesses will benefit from more generous tax reliefs, customs benefits and wider government support. The Government will legislate for powers to create 'tax sites', which will include a number of tax reliefs:
An enhanced 10% rate of Structures and Buildings Allowance
An enhanced capital allowance of 100% for companies investing in plant and machinery for use in Freeport tax sites
Full relief from Stamp Duty Land Tax on the purchase of land or property
Full Business Rates relief
Employer National Insurance contributions relief
These points are subject to parliamentary process and approval. Economists fear that these enterprise zones will displace activity within the UK but supporters of the scheme believe it will bring in new jobs to the UK, strengthening trade in exports and creating many high-quality jobs.
Levelling up Infrastructure
The HM Treasury's Green Book methodology, alongside political prioritisation of projects in and around London, has reinforced existing success in wealthy, already highly productive parts of the UK. That could be about to change. The Treasury has since reviewed and updated the Green Book and set up a network to share best practice. In the Budget, there has been confirmation of the intra-city investment-ready transport plans that will deliver on the government's plan of tackling congestion and driving productivity. This will provide £8.6 million to Greater Manchester; £5.6 million to Liverpool City Region; £5.2 million to Sheffield City Region; £3.5 million to Tees Valley; £4.1 million to West of England; £8.9 million to West Midlands and £7.4 million to West Yorkshire. It is projects like these that will play a part in helping to shift the dial.
The Leeds location of the Infrastructure Investment Bank has been announced in the Budget, which will bring a welcome boost to its local economy. The Bank will provide financial support to private sector and local authority infrastructure projects across the UK, to help meet government objectives on climate change and regional economic growth.
Levelling up communities
When the Coalition Government came to power in 2010 and embarked on austerity economics to bring down the deficit, the biggest hit was to local authority funding and reduced services, which in turn has been shown to hit more deprived communities harder. The anticipation was that the Big Society would fill the gap and the Coalition sought to facilitate this by encouraging the development of Big Society Capital and the Access Foundation, as well as schemes like Social Investment Tax Relief. As MP Danny Kruger stated in his report 'Levelling Up Our Communities', this has been successful in the places that had existing capacity to apply for funding, but it reinforces success in places already doing well and continues to widen social inequalities. Meaningful levelling-up will require more targeted support to strengthen community resilience.
The £150m community ownership fund will open in the summer of 2021 and allow community groups to bid up to £250,000 matched funding to help them buy local assets to run as community-owned businesses. The £220m community renewal fund is to help local areas prepare for the UK Shared Prosperity Fund (replacing EU Structural Funds). Funding will be competitive with the Government initially identifying 100 priority places based on an index for economic resilience to receive capacity funding to help them co-ordinate their applications.
Of the over 101 towns that were invited to apply for the Towns Fund, 45 successful applicants were announced in the Budget and a number of the remaining towns are now listed in the priority list for the Community Renewal Fund. The competitive nature of these bids still risks leaving places behind and the political bias in the selection of winnings bids is clear.
In summary, more targeted measures are required to avoid the scarring effects of higher unemployment (the OBR has forecast that 2 million people will still be on furlough in September 2021 when the coronavirus jobs retention scheme finishes). To be truly transformative and 'level up', greater investment is needed in science, technology and the green economy, with a fairer distribution of well-paid jobs throughout the UK.
Policy@Manchester aims to impact lives globally, nationally and locally through influencing and challenging policymakers with robust research-informed evidence and ideas. Visit our website to find out more, and sign up to our newsletter to keep up to date with our latest news.