As explained in the previous inaugural election forecast last month, up until May next year the Polling Observatory team will be producing a long term forecast for the 2015 General Election, using methods first applied ahead of the 2010 election (and which are also well-established in the United States).
The method employed involves trying to make the best use of past polling evidence as a guide to forecast the likeliest support levels for each party in next May's election (see previous research here), based on current polling, and then using these support levels to estimate the parties' chances of winning each seat in the Parliament. A seat-based element will be added to this forecast at a later date.
In light of the turbulence of the polls over the course of the European election campaign (with a Lord Ashcroft poll showing the Conservatives ahead for the first time since March 2012), inquests into the insipid performance of Labour and Ed Miliband, better than expected results for the Conservatives in local and European elections, and a disastrous showing by the Liberal Democrats, some might have expected a turning point or a step change in the predictions for May 2015 – consistent with the pattern for governments to often recover in the polls during the final year.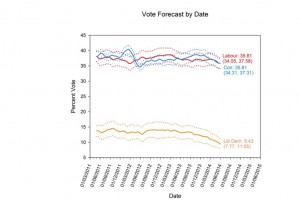 However, some degree of recovery is already built in to our model and there is, as yet, no evidence that the Conservatives are outperforming the historical trend. Our forecast puts Labour and the Conservatives in a dead heat, as it did last month. We currently forecast both parties to receive 35.8% of the vote. In part this reflects the very recent uptick in Labour support following a decline over recent months.
More significantly, though, it reflects the fact that both parties are polling well below their historical level, and therefore we expect both to make some recovery in the polls. However, the prospect of a recovery to the kind of levels seen by winners in past elections – 40% plus – is tempered by the very low starting point for both main competitors. Both main parties are likely to put in weaker performances than in the past, even with a recovery from the current low ebb, but at present history continues to suggest a very tight race to the finish next spring.