As people up and down the country prepare to return to the polls for Thursday's general election, Dr Sylvie Lomer reviews the manifestos and what they mean for higher education policy.
The Conservatives want to create institutes of technology and review funding and access to tertiary education
Labour would abolish tuition fees, reintroduce maintenance grants and bursaries for health related degrees and remove international students from net migration figures
The Liberal Democrats stand by the 2012 funding reforms to tuition fees and seek to retain access to EU funding
In case you're still unsure how to vote, or wondering what the implications are for higher education for England, here's a quick summary of the key policies from the Conservatives, Labour, Liberal Democrats, the Green Party and the UK Independence Party (UKIP). As higher education is a devolved policy issue, I'll leave out Plaid Cymru and the Scottish National Party.
Conservative
The Conservative HE policy focuses on 'Britain's lack of training and technical education', which they would achieve by backing 'prestigious new institutes of technology' 'in every major city in England'. This follows on from the commitment to introduce the new overall qualification for vocational education 'T-levels', based on the recommendations of the Sainsbury Review. These institutes are to specialise in technical disciplines, linked with industry and universities, with a strong employability motivation. They would be granted all the privileges of universities in terms of autonomy, grants, funding and research.  There's no costing of these institutes.
The Conservatives also want universities to 'make their full contribution to their local community and economy', primarily by being required to sponsor academies or free schools as a condition of charging maximum tuition fees. A 'full review' of tertiary education is promised, to examine funding and access. In essence, this is more a policy which impacts further education than higher education, but the possibility of new 'institutes of technology' could be disruptive to the HE sector, particularly if funding were diverted. Unspecified 'reform to medical education' is also promised. Universities are promised as well larger 'aggregated funds' to enable them to commercialise research more effectively, along a US model. Visa requirements for international students will be 'toughened', and they will be expected 'to leave the country at the end of their course'.
It's difficult to evaluate how realistic these broad stroke promises are – certainly the institutes of technology would require a significant capital investment, and the requirement to sponsor academies or free schools would impose an additional administrative burden on universities.
Labour
Labour's higher education policy is so terse you could be forgiven for turning the page to look for the rest of it. It amounts to 'abolish tuition fees ' and reintroduce maintenance grants. There's a concise justification – that no one should be deterred from HE through fear of debt – and that's it.
In terms of pros and cons, Peter Scott explains in the Guardian why abolishing tuition fees is an economically plausible plan. Basically, as the Institute for Fiscal Studies explain, it's due to the high cost of financing the student loan system, which currently they estimate at on 5% higher than if the 2012 £9000 fee cap had not been introduced. However, this isn't necessarily a recipe for automatic social mobility: Mark Leach highlights that this would primarily benefit the middle class. There's debate about whether debt aversion does actually deter students, but some studies suggest it does.
There is also a commitment to re-introduce bursaries for health related degrees and to remove international students from net migration figures as 'they are not permanent residents'. There has been continuous pressure from the sector to remove international students from immigration figures – not to refrain from international reporting of net migration based on a fixed definition – but to disaggregate students from permanent migrants for domestic policy purposes.
Apart from these specific commitments, Labour intends to establish a 'National Education Service', incorporating all levels of education including lifelong learning. They also intend to seek the UK's continued access to EU funding sources and mobility programmes like Erasmus.
Green
The Greens would also scrap university tuition fees, restore grants and Education Maintenance Allowance and fund 'greater public investment in further and higher education', of an unspecified amount. There was considerable debate about the Education Maintenance allowance, scrapped under the Coalition Government, but it appears to be a popular policy to reinstate it.
UKIP
UKIP also pledges to remove tuition fees 'as soon as economic conditions allow', and immediately for STEM and medical students, if they pay UK taxes for 5 years, or for the latter, work for the NHS. However, this is in the context of stating that 'the politically motivated decision to increase university places has deceived and blighted a generation'. So UKIP will 'stop paying tuition fees' for courses that don't meet employability standards.
It's not clear what they mean by this – whether these students would not be eligible for student loans, or whether these courses would not have their tuition fees removed. The implication is that they would seek to roll back enrolment in higher education, which they link to improving vocational and technical education at secondary levels. They would also restore maintenance grants 'to help the poorest students now', as well as bursaries for nursing, midwifery, and 'allied health professions'.
Liberal Democrats
The Liberal Democrats stand by the 2012 funding reforms to tuition fees, claiming 'the highest university application rates ever, including from disadvantaged students'. But they do intend to reinstate maintenance grants and establish a review of HE finance. They want universities to work to widen participation and 'be transparent about selection criteria'. It's not clear what is meant by this.
In line with the rest of their manifesto, they want to mitigate the damage of a 'Hard Brexit' to the HE sector, and seek to retain access to EU funding. They also pledge to improve long term planning of teacher training and there is a detailed plan for further education, and incidentally a plan to reinstate free English language classes, particularly for asylum seekers and refugees.
Here's a quick visual overview for comparison.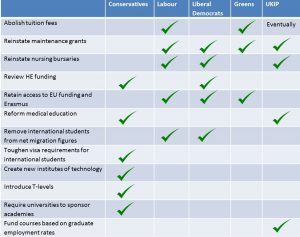 You can read more from Sylvie on her blog