Paying the living wage must be at the top of the mayoral agenda if everyone who lives and works in Greater Manchester and beyond is to benefit from a growing economy, says Alec Spencer.
In Greater Manchester, wages have fallen faster than the UK average since 2009
Devolution and Northern Powerhouse presents a critical opportunity to catalyse change
There is a strong moral and social argument for getting accredited – but also a growing business case
The Greater Manchester Living Wage Campaign has been consistently championing fair pay in the city region, bringing people together to tackle poverty wages and make Greater Manchester a Living Wage Zone.
However as local dynamics shift as a result of devolution, and Greater Manchester positions itself as a key player in the Northern Powerhouse with a commitment to tackle the low wage economy, we are now presented with a critical opportunity to catalyse change.
In particular, next May's mayoral elections in Manchester and other cities provides a perfect opportunity to embed this change and make the living wage an essential tool for achieving inclusive growth.
Engagement
When employers voluntarily choose to become accredited by the Living Wage Foundation, phased changes guarantee that all employees and subcontracted staff over the age of 18 are paid enough to afford a decent standard of living. Our challenge is to engage some of the biggest employers in the city – whether they be football clubs, local authorities or universities.
While many employers are currently paying their staff above the living wage, it's imperative that we secure a firm commitment and ensure that this extends to subcontracted workers too through the Living Wage Foundation's accreditation process.
The case for the living wage is especially clear in Greater Manchester, where wages have fallen faster than the UK average since 2009. A New Economy report revealed that the number of people paid less than the Living Wage rose from 21.7% of employees in 2013, to 24% by the end of 2015. The people most likely to be in low paid jobs work in hospitality, accommodation, retail, cleaning and residential care. In retail alone, 121,700 people are low paid.
Despite this context, campaigners for the living wage in Greater Manchester have achieved something remarkable. The number of employers which have become accredited with the Living Wage Foundation has risen rapidly over the past three years, and of the 231 current accredited employers based in the North West, 134 of those are headquartered in Greater Manchester (as of early September 2016).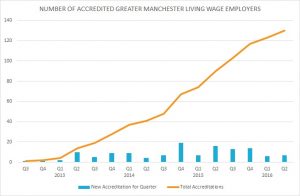 Neither have Living Wage accredited employers been concentrated in any one sector. Private, public and third sector employers alike have all gained accreditation, including employers in traditionally low paid industries like retail, cleaning, hospitality and care.
Challenges
It is vital that we recognise the different kinds of challenges that each sector can face.  For small employers in high value sectors accreditation may support market differentiation and other positive outcomes with little change in working practice required.
For larger employers in lower value sectors, a sustained effort may be needed to achieve the changes that are necessary to become a responsible employer.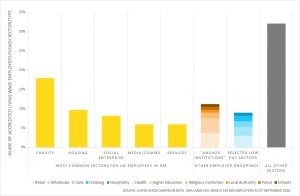 In every sector, however, employers and anchor institutions which have committed to paying a fair wage should be proud of the leadership they are showing. With every new employer who gets accredited, we move one step closer towards being a city region that includes everyone in the benefits of prosperity.
Moral case
There is a strong moral and social argument for getting accredited as a living wage employer, but there is also growing evidence that a business case can be made in every sector, even those that are traditionally low paid.
Employers must be supported to recognise the intuitive, strategic case for paying the living wage. Paying a wage that supports a decent standard of living is not just the responsible thing to do. There are clear business, social and economic benefits.
For business the benefits include: enhanced reputation with regard to customers, clients and employees; greater market differentiation; higher productivity; and the reduced recruitment costs that accreditation can bring. These benefits are particularly pronounced in Greater Manchester, where low pay is more common and where low paid people change jobs more often than higher paid people, with implications for recruitment costs.
So the evidence is clear. Through the living wage we can include more people in the benefits of prosperity. It's time to proactively challenge key employers to take the practical step of registering for accreditation with the Living Wage Foundation.
The GM Living Wage Campaign and the GM Chamber of Commerce are hosting a networking event on the 31st October in Manchester to mark the start of Living Wage week. Please click here to register your place. Tickets are free.