What does the Conservative election victory mean for the North of England and higher education? Professor Andy Westwood interprets the signals.
Just in case you didn't know, the Northern Powerhouse is 'GO' and was confirmed in today's Queens Speech. George Osborne reaffirmed his commitment to the idea almost immediately after he and the Conservatives won their majority on 7th May. He came to Manchester to say so in a speech a week later on 15th May.
Some commentators are already describing it as his legacy. But it's a very big job. Jim O'Neill -Mancunian, Hon Professor at the University of Manchester, inventor of 'BRICs' and 'MINTs' and now Commercial Secretary to HM Treasury – has described reviving the North as harder than discovering and marketing new antibiotics. He should know. In the last few years these are the two main issues he's been thinking about.
This chart from the Centre for Policy Studies shows us just how big this task is.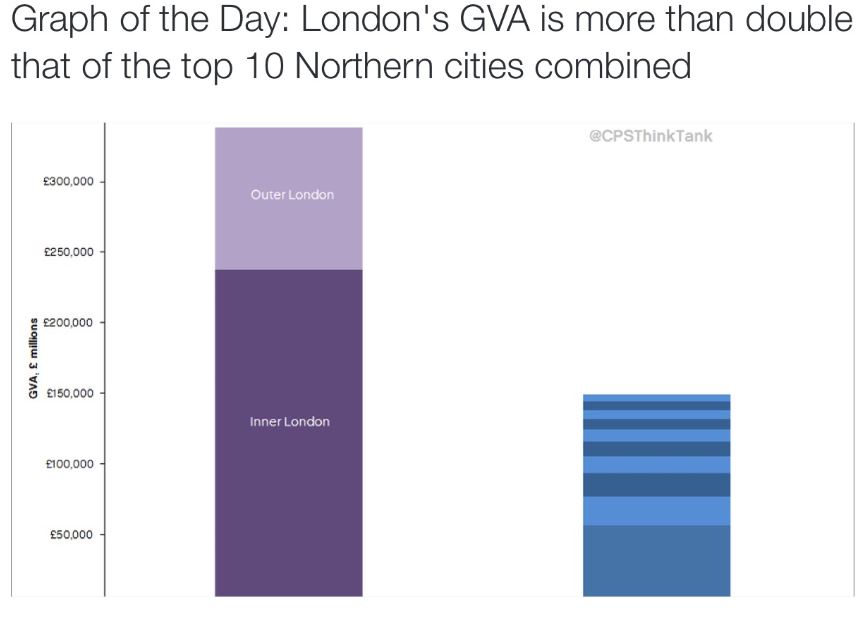 But the prize is pretty big. According to Osborne, speaking at the CBI last week, it would add £37bn to UK economy if the North could grow at the same rate as London. Add the Midlands Engine and that's the deficit sorted as well as big strides towards solving the UK's productivity problem.
BIS still exists. So too does DECC, DCMS and DFID – all of which were predicted for the chop by more than a few Whitehall pundits. George Osborne is immeasurably more powerful. He's officially 'First Secretary of State' and de facto the Deputy Prime Minister now that both Nick Clegg and William Hague have stepped away. Look at the photograph taken two years ago on Budget day – three of those Treasury ministers are now Secretaries of State: Amber Rudd, Nicky Morgan and Sajid Javid. For now at least, Osborne is well ahead in the race to succeed David Cameron, with Boris Johnson only attending Political Cabinet, every couple of weeks after the main business of government is concluded.
BIS is much stronger. Yes it has a very difficult Spending Review to negotiate and that's going to be far from straightforward. But it's still there and together with the Treasury it's the Department most responsible for growth and productivity. It has some political and economic muscles to flex and it's now led by ministers with significant political capital. Sajid Javid, Francis Maude and Jo Johnson have experience and networks in the heart of government (No 10, No 11 and the Cabinet Office).
Greg Clark becoming Secretary of State at DCLG is also significant. He understands science and HE and has been a big driver of devolution, delivering a number of City Deals in the last parliament. On his first visit to DCLG, he was accompanied by Michael Heseltine, giving a strong flavour of his approach.
There is then a job to do. If we in the North and higher education want to see this political capital deployed on our behalf, we will need to convince this new team that we are instrumental in achieving both growth and productivity increases. And probably not at some vague point on the distant horizon, but in this parliament. That's how long a 'long term economic plan' is, at least in political terms.
But then there's the Home Office. Theresa May has returned and with a renewed target to bring down immigration. In the second key speech of the week David Cameron repeated his aim to bring net migration down from the 100s of 1000s to the 10s of 1000s. Again. But today net migration stands at 318,000 – a rise of 109,000 since 2013. International students and universities remain firmly in their sights and firmly in their net migration measure.
There are more than casual connections between the two speeches. Some argue that you can't have one – economic growth – without the other – migration. Or at least some of the former is helped by at least a little of the latter. David Cameron and Theresa May are essentially arguing that we can have it both ways. This is more political optimism than economic reality. At some point he is going to have to decide which he wants more.
Are there any reasons to be optimistic? George Osborne now outranks Theresa May and the economy, as it gets stronger, is likely to outrank immigration as an electoral issue. Or to put it another way, a weak economy in 2020 will do more electoral damage than a missed migration target. BIS is no longer led by an oppositional Lib Dem and an outsider Conservative. UKIP are a weaker proposition and arguably less of a threat to the Conservatives. (Labour may be different.) But BIS, Treasury and DCLG working together with balanced economic growth as a shared objective may now have a stronger view and stronger political capital.
Getting rid of the 'red tape' that prevents international graduates working might be a good first test? If Jim O'Neill is anywhere near right then why do graduates in the North have to meet exactly the same earnings threshold (above £20,800) as in London? Securing any changes will also be a big job. But the political and economic record of this new Government and the returning Chancellor are riding on it.